Meet Pamela your Certified Health and Wellness Consultant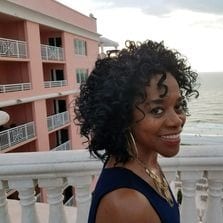 Pamela Evette Graham, a New York native currently living in Sarasota, Florida is a Certified Nutritional and Wellness counselor and Certified Longevity & Wellness Specialist.  Pamela's primary focus centers on promoting healthy eating, fundamentally sound lifestyle choices and a spiritually realized wellness of self. A former inter-collegiate & semi-pro competitive athlete (volleyball, track & field) with over 30 years of business experience in the financial industry. Pamela has a unique perspective on practical applications of methods to ensure abundant health, happiness, and joy in your life. Pamela has been a vegetarian for over 40 years. Her core philosophy is "own your health from the inside out". She is currently studying for her Master Level Certification in Holistic Nutrition specializing in Whole Food Plant-Based Nutrition.
Pamela wants people to feel empowered and to recognize the tremendous value of eating properly. One of our most important life skills is to learn how to eat well for optimal living. Total body rejuvenation accompanied by discovering a restorative healthy spirit and happier being is the key to wellness. She is proud to be affiliated with the American Nutrition Association and the Academy of Nutrition and Dietetics. Pamela is also a member of the American Association of Drugless Practitioners.

Pamela operates an integrative holistic nutrition and wellness practice that will empower, educate and encourage you to learn about your body through proper nutrition. Conscious living will have the biggest impact to developing positive lifestyle changes.
Working together toward a common goal is my most humble honor and passion.  Your success, health, and happiness is my heartfelt plan for you.
The anti-aging revolution is here! If you are willing to make some simple lifestyle changes and work with a specialist who can help you commit to a longer, better, and healthier life, you can stop the clock. Enhanced benefits include improved immune system, memory, and cognitive function.  Live mindfully, age gracefully.