Easy Homemade Chocolate Almond Fudge – BY ALEKSANDRA P. During mixing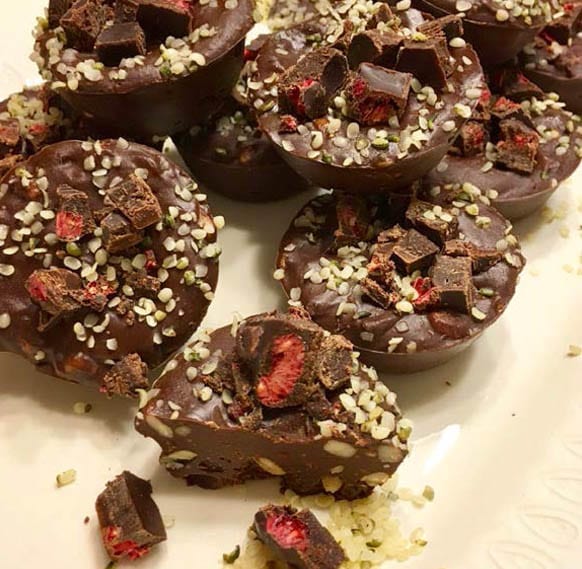 INGREDIENTS
1 cup creamy almond butter
1 cup dark chocolate cacao powder
3/4 cup coconut oil, melted
1/4 cup raw honey or maple syrup
1 tsp vanilla extract
Dash of Himalayan pink salt
1/2 cup toasted pine nuts
1/2 cup freeze-dried raspberries
1 tbsp raw shelled hempseed (garnish)
1 tbsp freeze-dried raspberries (garnish)
DIRECTIONS

Grease the cups of a silicone mini muffin tray with coconut oil. Set aside.
Mix dark chocolate cacao powder with Himalayan pink salt.
Add almond butter, honey, vanilla extract and melted coconut oil. Mix well.
Gently mix pine nuts and 1/2 cup of freeze-dried raspberries into the fudge mixture.
Scoop the mixture evenly into the greased cups.
Sprinkle with hempseed and the remaining chopped freeze-dried raspberries.
Pop the tray in the freezer for at least 30 minutes to set.
TIP:
During mixing add more coconut oil and raw honey if
your mixture is too dry or add more chocolate powder
if your mixture is too runny.
Taste as you go to adjust the desired flavors