Vegan Creamy Tomato One-Pot Pasta – BY JANE J.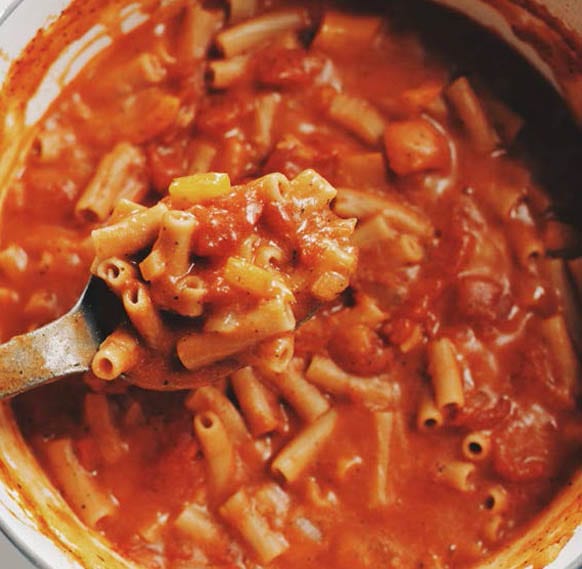 INGREDIENTS
1 lb pasta of choice
1 28 oz can diced tomatoes
1 1/2 cups tomato sauce
3 cups veggie broth or water (you may need to adjust liquid depending on pasta type)
1 bell pepper, chopped
1 onion, chopped
1/4 cup nutritional yeast
1/2 tsp onion powder
1 tsp garlic powder
1/2 tsp chili flakes
1 tsp dried basil
1/2 tsp black pepper
1/2 tsp salt3
DIRECTIONS
In a large pot, combine ALL of the ingredients. Mix until thoroughly incorporated.
Place on the stove. Cover and bring to a boil.
Once it has reached a boil, uncover and simmer for about 15-20 minutes. Cook time will depend on type of pasta.
Remove from the heat once the pasta has become al dente.
Serve right away with some fresh parsley and vegan Parmesan or use for meal prep!
Tip:
I suggest using rigatoni brown rice pasta because it
makes the dish creamier and holds the flavorful sauce
really well. You can also make your own tomato sauce
with a can of tomato paste, water, and spices. I like to
use a premade jar of organic sauce because I find it adds
an additional level of flavor.