Sweet & Creamy Broccoli Rabe – BY JENNIFER K.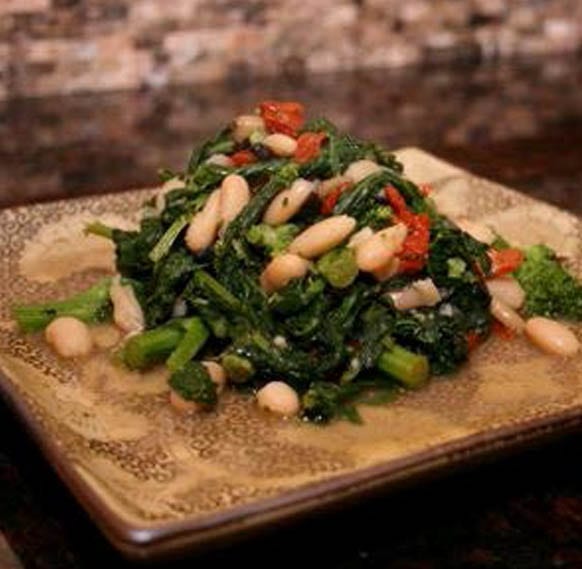 INGREDIENTS
1 bunch broccoli rabe, washed, stems trimmed
1 can Eden brand cannellini beans
2-3 Portobello mushroom caps, chopped
1/2 cup sundried tomatoes, chopped
2 tbsp olive oil
3 cloves garlic, minced
Celtic sea salt to taste
Red pepper flakes
Grana Padano Parmigiano cheese for garnish (optional)
DIRECTIONS
Heat oil over medium heat in a large pot and add garlic, cooking for 2 minutes.
Add mushrooms and stir, cooking for another 5 minutes.
Add sundried tomatoes and beans, and stir until warmed.
In the meantime, bring a large pot of water to a boil and blanch broccoli rabe for 7 minutes.
Drain well and add broccoli rabe to bean mixture.
Stir until combined and season with salt, red pepper flakes, and optional Parmigiano to taste.
Tip:
Broccoli rabe is often overcooked, which brings
out excessive bitterness in this otherwise delicious
superfood. The key to cooking broccoli rabe is to blanch
it for 7 minutes. At that point, it is perfectly cooked, soft
enough to bite, but not chewy or overly bitter.