Pear and Pomegranate Kale Salad with Pistachios – BY KATY D.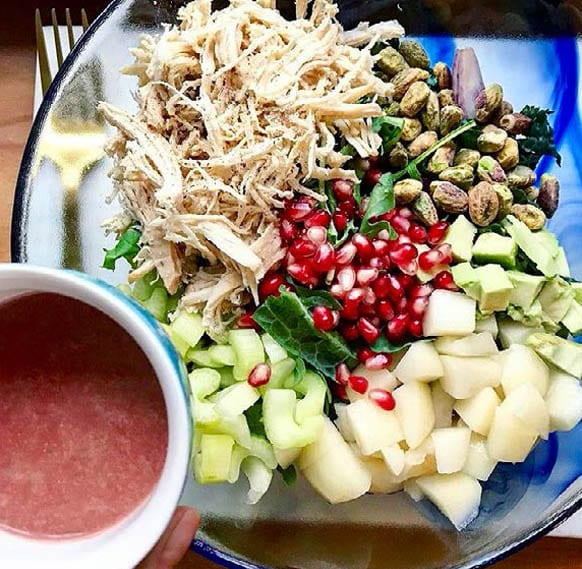 INGREDIENTS
Salad Ingredients (1 serving)
2 cups chopped kale, massaged with lemon juice
1 pear, diced
1 celery stalk, chopped
1/4 avocado, diced
2 tbsp pomegranate seeds
1 tbsp pistachios
4 oz protein of choice, cooked (optional)
Dressing Ingredients (3 servings)
• 1 lemon, juiced
• 1/2 cup pomegranate seeds
• 2 tbsp balsamic vinegar
• 2 tbsp olive oil
• 1 tbsp maple syrup
• 2-4 tbsp water, if needed for blending
DIRECTIONS
In a bowl, add chopped kale and a squeeze of lemon on top. Massage with your hands gently for 30 seconds.
Top with remaining salad ingredients.
For the dressing, combine all dressing ingredients except water into a blender until well combined. If needed, add water to help smooth the dressing.
Use 1/3 of the dressing to drizzle over your salad. Enjoy!
Tip:
You can easily triple the salad ingredients and make
mason jar salads for a quick grab and go lunch! Just add
protein and dressing on the bottom, layering the salad
ending with kale and nuts at the top of the jar.