Winter Caesar Salad- BY RACHEL F.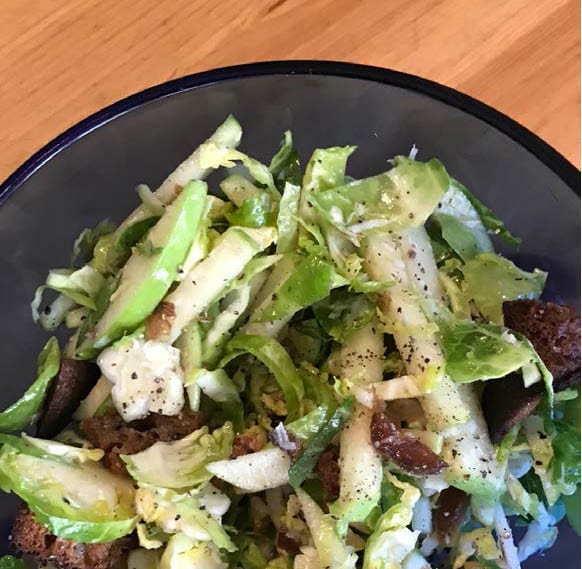 INGREDIENTS
15 Brussels sprouts
1 green apple
2 anchovies
1/2 cup of grated Pecorino cheese
8 dates
Half of a lemon
1/2 cup of olive oil
1/3 cup of feta
Handful of pecans
3 tbsp of tahini
1 tbsp maple syrup
2 shakes of cayenne
2 garlic cloves
2 tbsp Greek yogurt
Salt and pepper to taste
DIRECTIONS
Thinly slice the raw Brussels sprouts so they look shaved and add to bowl.
Matchstick cut the green apple and add to bowl.
De-pit the dates and cut into quarters, add to bowl.
Put pressure on knife to break the pecans into smaller pieces and add to bowl.
Add feta to bowl.
Cut anchovies and use a spoon on cutting board to smooth them out into a paste. Add a splash of olive oil to help with this then scrape into separate bowl and add a little bit more olive oil and a squeeze of lemon.
Add tahini, maple syrup, chopped garlic, cayenne, salt, and pepper to bowl. Mix well and add a dollop or 2 (about 2 tbsp) of Greek yogurt and mix. To thin out the dressing add a splash of water.
Pour dressing over salad and mix.
Add salt and pepper to taste.